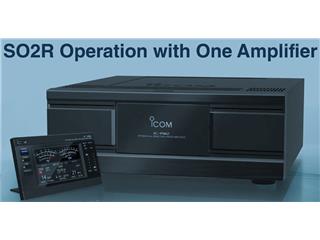 Coming Soon!
Pre-Release Information ICOM IC-PW2
HF and 50 MHz All Mode 1 kW Linear Amplifier
The IC-PW2 has NOT been formally been released by ICOM for sale in the United States. This is pre-release information only.
This unit has not yet been approved by the FCC for sale in the US
· The latest LDMOS effortlessly provides 1KW output at fully duty cycle even for extended periods of time
· 2x6 antenna selector realizes SO2R (Single Operator Two Radio) operation with only one amplifier.
· Six antenna connectors which may be enabled for a variety of antennas and bands
· Super low-distortion output with superior IMD (Intermodulation Distortion)
· When connected to ICOM transceivers all settings are automatically completed
· Simultaneous band data output for both Main and Sub bands
· The IC-PW2 has an internal LAN port for remote control operation from a PC
· Touch screen color TFT LCD enable intuitive setting changes

Frequency coverage (Japanese Version)
1800—1999 MHZ
3500—3999 MHZ
7000—7300 MHz
10100—10150 MHZ
14000—14350 MHz
18.068—18.168 MHz
21000—21450 MHz
24.890—24.990 MHz
28000—29100 MHZ
50000—54000 MHz
Output Power
1 kW (180—264 v AC)
500 w (90—132 v AC)
Drive Power
Maximum 100 watts
Power Supply Requirements
90—132 v AC (50/60hz)
180—264 v AC (50/60hz)
Spurious emmissions
Less than -60db (HF Bands)
Less than -70db (50 Mhz Band)
Input impedance
50 Ohms