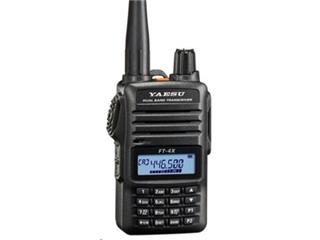 We are pleased to introduce Yaesu's newest compact handheld transceiver, the FT-4XR (Dual Band VHF/UHF).

The FT-4XR is the ultimate in compact designed (W 2.1" x H 3.5" x D 1.2") , providing up to 5W of stable and reliable output power thanks to Yaesu's integration of highly-efficient Bridged Transless (BTL) amplifier technology. This is a rugged handheld transceiver that has a 1.4-inch Front Speaker that delivers 1W of powerful clear and crisp intelligible audio.

The FT-4XR includes an extraordinarily robust package of features and specifications such as: Over 15 hour operating time (5:5:90 Duty Cycle)* with the supplied 1,750mAh Li-ion Battery pack; 3.5 hour rapid charger included; Selectable Frequency Step from 5kHz; two quick programmable keys for quick access to favorite functions; 200 memory channels; 3 Home Channels** and 10 pairs PMS channels; two user-settable different frequencies (one for RX another for TX) in one memory channel; versatile scanning capacities such as VFO scan, Memory scan, Programmable Memory scan (PMS), Memory Bank Scan and Dual Receive; Lockout Capacities for Keypad/PTT Lockout; VOX Operation with the optional VOX headset; Cloning feature allowing the memory and configuration data from transceiver to transceiver with the optional cloning cable; PC Programmable with optional programming cable; FM Broadcast Receiver; CTCSS/ DCS Operation; and Time-out-Time (TOT) to name a few. For more detailed features, please refer to the detailed specification sheet below.
Radio Features:
VHF/UHF Dual Band FM Handheld Transceiver
Ultimate Compact Design, Measuring W 2.1" x H 3.5" x D 1.2" (52 x 90 x 30 mm)
One Watt Powerful Audio Output and Clear Audio from the 1.4" Front Speaker
5 Watts of Reliable RF Power within a Compact body
Three Selectable TX Power settings (5 W (High)/2.5 W (Middle)/0.5 W (Low))
Over 15 hours Operating time with Supplied 1,750 mAh Li-ion Battery pack *1
3.5-Hour Rapid Charger (SBH-22) Included (Using SBR-28LI)
QRK (Quick Recall Key) : Two User Programmable Keys for Quick Access to Favorite Functions
One-touch Alarm and Quick HOME Channel Access for Emergency Signaling
Versatile Scanning Capabilities: VFO Scan, Memory Scan, Programmable memory scan (PMS), Memory bank scan, and Dual receive
Large-capacity 200 memory channels
3 home channels and 10 pairs of PMS memory channels
Selectable Frequency Steps(5/10/12.5/15/20/25/50/100 kHz )
Split Memory(Two different frequencies(TX/RX) )
WX Channels with "Severe Weather" Alert
VOX Operation with Optional VOX Earpiece Microphone (SSM-512B)
PC Programmable with Optional Programming Cable (SCU-35)
Transceiver-to-Transceiver Cloning with Optional Cloning Cable (SCU-36)
FM Broadcast Receiver Equipped
ARTS (Automatic Range Transponder System)
DTMF Operation
CTCSS/DCS Operation
Busy Channel Lock-Out (BCLO)
Battery Saver Function
Automatic Power-Off (APO) Feature
Transmitter Time-Out-Timer (TOT)
*1 (Tx) 5 : (Rx)5 : (Standby) 90 Duty Cycle
Supplied Accessories:
Antenna (SRA-15)
7.4 V 1,750 mAh Lithium-ion Battery Pack (SBR-28LI)
Rapid Charger (SBH-22)
AC Adapter (SAD-20)
Belt Clip (SHB-18)
Operating Manual
Specifications:
Frequency Ranges:
RX 136 - 174 MHz
RX 400 - 480 MHz
RX FM Broadcast 65 - 108 MHz


TX 144 - 148 MHz
TX 430 - 450 MHz
Circuit Type:
Direct-Conversion
Modulation Type:
F2D, F3E, F2A
RF Power Output:
5 W/2.5 W/0.5 W
AF Audio Output:
1 W (Max power)
Case Size (W x H x D):
2.1" x 3.5" x 1.2" (52 x 90 x 30 mm) without Knob
Weight (Approx.):
8.82 oz (250 g) with SBR-28LI and Antenna